This is my first time participating in Top Two Tuesday and this week's topic happens to be one I LOVE....baby names!!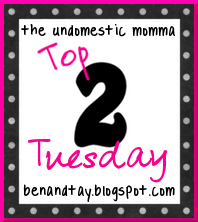 Since I won't be giving out any possible names for future Lubbers babies I will tell you the two names I
thought
I had all picked out for a boy and a girl 4 years ago when Robb and I first got married.
Boy: Jackson
Girl: Ava
Needless to say my name style completely changed once it became the real deal. I can't even guess how many names have been cycled through our lists over the years! :)
Have a great day friends! We are packing up and headed out to Florida this afternoon for a week long vacay :) Be ready for lots of picture posts coming up!!
9 Comments »